Association structure
The board of directors and other active members have worked out a new association structure in a strategy meeting in 2021 due to a generation change. The active association work can be supported very gladly in the individual working groups (AGs). Please contact us if you can support in a certain area! The individual working groups are described below.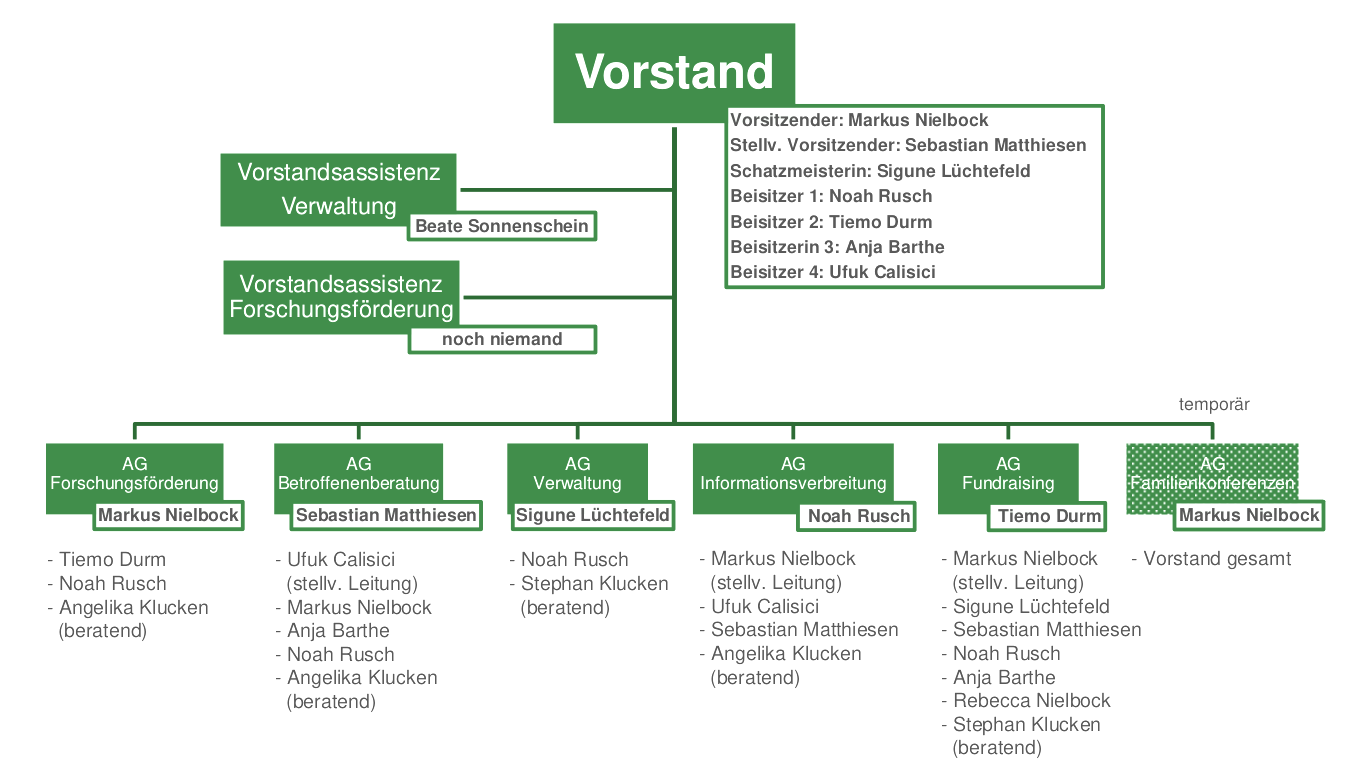 WG Research Funding
Network with partners, researchers, patients, etc.
Acquisition of new target-oriented research projects
Commissioning, monitoring, support and supervision of research projects
Efficient use of available financial resources for research funding following internal coordination within the Executive Board
Organization and implementation of research-oriented events within the framework of the Hoffnungsbaum lecture series
Transparent information of the board and members about ongoing and completed research projects (including translation activities, if applicable)
Professional training concerning NBIA in general
AG-Betroffenenberatung
Organization, creation and maintenance of a decentralized solution for affected person consultation
Organization and implementation of the required communication channels in close coordination with the AG Public Relations and AG Administration.
Professional counseling of the inquirer, adapted to the respective situation and emotionally stabilizing in the best possible way
Management and further processing of the respective requests
Professional further education regarding counseling of affected persons with focus on offers in the partner and umbrella organization network
AG Administration
Application for funding for the continuous continuation of the generally necessary activities of the association as well as for the organization of further events in line with demand.
Organize, conduct and record all activities necessary for the maintenance of the association's operations (accounting, tax, banking, etc.).
General management of members and network partners
Organizing, conducting and taking minutes of regular board meetings and the annual general meeting of members
Organization and implementation of family conferences as well as other events, if necessary
Maintenance, continuation and best possible expansion of already existing association connections to umbrella associations and partner organizations
Professional training in association management and organization
WG Information Processing
Maintenance, continuation and best possible updating of the website
Coordination of content, creation and distribution of newsletters to the various interest groups
Review and implementation of all data protection aspects in the context of the association's work
Creation, implementation, maintenance and, if necessary, demand-driven management of new target-oriented communication channels in the area of social media and messenger services
Organization and implementation/participation in events relevant to Hoffnungsbaum
Creation and organization of banners, posters, flyers, etc.
Application for funding to further professionalize public relations work
Further training in public relations in general.
AG Fundraising
Maintenance, continuation and best possible expansion of already existing fundraising activities
Examination and possible introduction of new target-oriented fundraising possibilities
Applying for funding to further professionalize fundraising activities
Internal management of donations and donors
Preparation of donation receipts
Organize and conduct/participate in fundraising events relevant to Hoffnungsbaum
Professional development regarding FR opportunities