Family conferences
A weekend with everyone involved with NBIA: Affected families, therapists, physicians and researchers.
Every few years organizes Hoffnungsbaum e.V. a family conference in Germany. In addition to those affected and their relatives, therapists, doctors and researchers, among others, are invited to give presentations and are also available for discussions. The family conferences are a good opportunity to gain insight into the work of the association as well as information about research, to get to know other families and to exchange ideas with each other. A special "highlight" of our family conferences is every time the varied and affectionate child and youth care, which has already been organized eight times by our proven team of volunteers from Velbert. All 8 family conferences have only come about thanks to the self-help support of the statutory health insurance funds as part of their project funding. We would like to express our gratitude for this.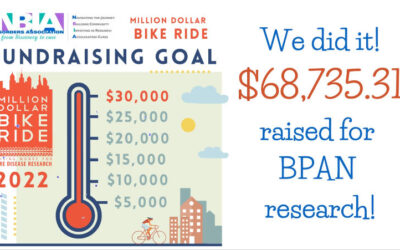 Video: NBIA DA It worked again - in 2022, the Million Dollar Bike Ride (MDBR, https://www.milliondollarbikeride.org/) at the University of Pennsylvania in Philadelphia once again far surpassed the US$20,000 mark: Nearly US$39,000 was raised....
read more