Research funding
Here we give you an overview of the development and principles of our research funding.
Since 2004, Hoffnungsbaum e.V. Grants for the promotion of NBIA research projects, research infrastructure, medical care totalling several € 100,000 financed or co-financed (see also Funded projects). Some of these funds have been allocated in close collaboration with our sister associations, particularly in Italy and the United States, or within the framework of the NBIA Alliance. The Hoffnungsbaum Proposals submitted for individual projects are peer reviewed by scientists in order to ensure funding for qualified projects (see also Funding conditions).
Inspired by the NBIA Disorders Association, HoBa organized eight family conferences in Germany, which were always attended by clinicians and scientists from Germany and other European countries in addition to the NBIA families. Some of the family conferences served as an opportunity to carry out research-related activities on the occasion of these meetings, such as blood draws for the NBIA Disorders Association biobank in the USA in 2006.
One of the main aspects of Hoffnungsbaum's research funding has always been the intensive networking of relevant NBIA actors and thus the mediation of contacts between NBIA research groups that have not yet cooperated. In 2005, 2007, 2009 and 2014, we supported the participation of European clinicians in NBIA symposia and family conferences in the USA and Europe with a total of approximately €2000.
In addition, we have initiated research projects, advising researchers from both academia and biotech companies on a voluntary basis from the perspective of patient advocates, based on a growing lay experience in the field of NBIA research.
We regularly inform NBIA researchers about funding opportunities that have come to our attention. We provide non-material support, for example in the form of letters of support, for applications from NBIA scientists or consortia for funding, for example within the framework of the programmes for rare diseases at European level such as EJP-RD. We also contribute to the dissemination of information about ongoing clinical trials, whether to affected families or to doctors.
2011-2015 was Hoffnungsbaum, as well as the NBIA Disorders Association, a full partner of the EU-funded FP7 project TIRCON (Treat Iron-Related Childhood-Onset Neurodegeneration) (1). As head of the work package "Dissemination", HoBa was a member of the scientific steering committee of TIRCON. TIRCON continues to exist as an unfunded, loose and extended network of NBIA researchers and physicians, as does the steering committee that makes decisions on the NBIA patient registry and biobank. The patient organizations are the NBIA Disorders Association and Hoffnungsbaum on this Steering Committee.
At Publications you will find articles on other research projects that Hoffnungsbaum financially, ideally, or organizationally.
(1) In November 2011, the European Union funded an NBIA research consortium for 4 years to the tune of EUR 5.2 million. Treat Iron-Related Childhood-Onset Neurodegeneration (TIRCON) consisted of 13 partners from eight countries. The scientific objectives of the TIRCON project were: the establishment of an international NBIA patient registry; the establishment of a biobank; the development of biomarkers for PKAN, conducting a randomized clinical trial of the iron chelating agent deferiprone in PKAN; the development of pantethine derivatives for the treatment of PKAN
Calls for proposals and research grants
Here you can see calls for tenders that Hoffnungsbaum e.V. to whom funding has recently been awarded and in which research projects Hoffnungsbaum involved. A tabular overview of all funded projects can be found at Funded projects.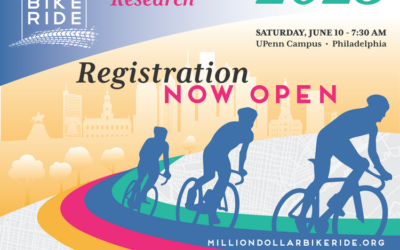 This year, the Million Dollar Bike Ride (MDBR) at the University of Pennsylvania in Philadelphia is once again raising funds for research into rare diseases. The 10th edition of the charity bike race will take place on June 10, 2023....
read more