INAD gene therapy moves one step closer
Abridged translation of an English article by Patricia Wood
Work on a gene therapy for Infantile Neuroaxonal Dystrophy, called INAD, got a big boost in October when a London biotech company announced its intention to help bring the therapy to market.
London-based Bloomsbury Genetic Therapies Limited, known as Bloomsbury, plans to advance its efforts with the help of a £5 million seed funding from the UCL Technology Fund. Bloomsbury is working on an adeno-associated virus (AAV)-based gene therapy called BGT-INAD to treat INAD.
INAD is a form of PLA2G6-associated neurodegeneration, or PLAN, that usually occurs between 6 months and 3 years of age and progresses rapidly. Many affected children do not survive their first decade of life. (...)
Bloomsbury benefits from the expertise of its academic scientists in gene therapy and rare diseases, including Professors Manju Kurian and Ahad Rahim of University College London. Kurian and Rahim have been working on a gene therapy treatment for INAD for eight years. The NBIA Disorders Association awarded the researchers a $150,000 grant in 2014 to begin the work. That was followed by £655,000 from the UK Medical Research Council.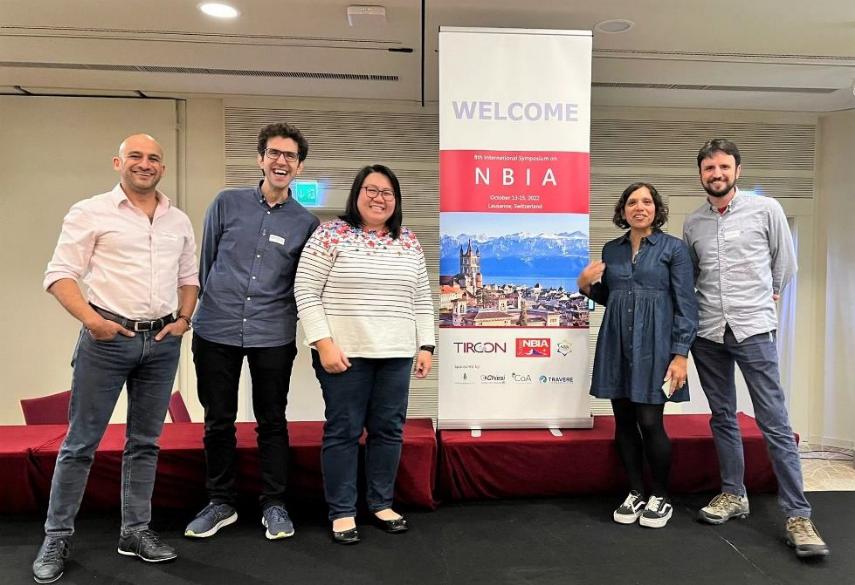 Image: Researchers from University College London at the 8th International NBIA Symposium in October 2022, where they presented their work.
L-R: Professor Ahad Rahim, Dr. Apostolos Papandreou, Dr. Audrey Soo, Professor Manju Kurian, Dr. Robert Spaull.
Rahim presented the promising data for BGT-INAD at the 8th International NBIA Symposium in Lausanne in October 2022. Preliminary results show a significant improvement in survival and behavioral parameters in mice treated with BGT-INAD.
Dr. Audrey Soo, who is part of Professor Kurian's research group at UCL, also gave an update at the symposium on preparations for a BGT-INAD gene therapy clinical trial. She said the work is based on an extensive retrospective study of the natural history of the disease involving more than 300 INAD patients worldwide. (...)
UCL research has improved knowledge of INAD, including its key features and symptoms. Most importantly, researchers have developed a meaningful disease-specific assessment scale for INAD and discovered potential biomarkers for blood and CSF. Once fully confirmed, the biomarkers can be used as outcome measures in clinical trials, accelerating the development and approval of potential treatments for INAD patients. Soo said she will continue the development and validation of INAD biomarkers throughout 2023.
Bloomsbury is working with investigators on an accelerated timeline to move its gene therapy research programs into clinical trials as quickly as possible. Bloomsbury plans to complete the comprehensive efficacy evaluation for BGT-INAD in the INAD mouse model in the first quarter of 2023. The company will then focus on the required safety testing in animals. It hopes the accelerated clinical trial design will shorten the time to approval by regulatory agencies such as the European Medicines Agency or the U.S. Food and Drug Administration, allowing it to make the therapy commercially available to treat patients.
Bloomsbury keeps its website up to date so that patients and family members can find information at https://bloomsburygtx.com can inform about the latest developments. (...)
Full original version of article and image source in December 2022 Newsletter of the NBIA Disorders Association, p. 6/7):
https://www.nbiadisorders.org/news-events/nbia-newsletters/62-2022-newsletters/477-2022-december-newsletter
Translated with support from www.DeepL.com/Translator (free version)