International NBIA Symposium held in Switzerland in October 2022
In 2020, the last NBIA scientists' meeting took place online only due to pandemic. In October 2022, for the first time since 2017, numerous stakeholders in NBIA research finally met again in person for 3 days at the 8th International NBIA Symposium in Lausanne.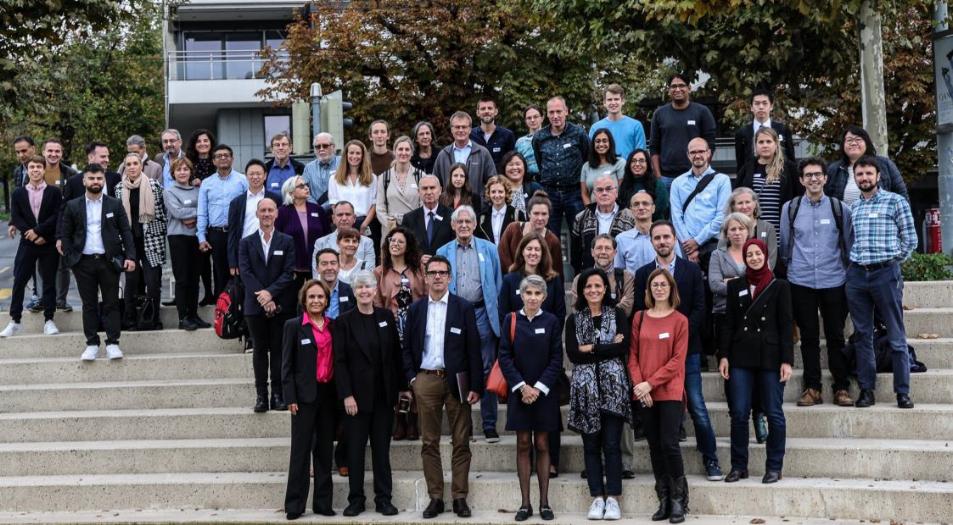 Group photo with participants at the 8th NBIA Symposium 2022 in Lausanne.
The conference attracted 80 official participants from 14 countries, 28 of them as speakers. Including guests, e.g. patient representatives, 91 people attended. Even though the Online Symposium 2020 had significantly more participants with 160 from 26 countries, a personal meeting in a confidential setting offers significantly better conditions for an - also informal - exchange among individual scientists about their NBIA projects and project ideas. Not infrequently, such personal encounters later lead to scientific collaborations.
The NBIA Disorders Association awarded eight travel grants totaling $5,000 to early-career scientists who otherwise could not have afforded to attend. The young investigators were able to present their project findings or disease-specific information in the form of posters at the symposium.
Participant Patricia Wood, founder and president of the NBIA Disorders Association, summarizes, "Several early career scientists emailed me afterwards to say how valuable the experience was and that it motivated them to continue working on NBIA. It also gave them ideas for research and helped them form collaborations with other participants."
Wood reports lively discussions with many questions and ideas. Networking fostered interest in collaborations to further explore some topics through mutual exchange. The event focused on the more common NBIA disorders such as PKAN/CoPAN, MPAN, BPAN, PLAN/INAD, and FAHN.
Discussion topics were:
- Disease mechanisms and therapeutic approaches in NBIA disorders.
- Precisely fitting animal and cell models for preclinical tests
- Specific rating scales for clinical trials, based on the natural history of disease.
- Clinical therapy studies
A committee of scientists headed by Thomas Klopstock of Ludwig Maximilian University in Munich had prepared the program of the symposium. In addition to Susan Hayflick from Oregon Health & Science University in Portland, Valeria Tiranti from the Neurological Institute C. Besta in Milan and Agnès Rötig from the Institute Imagine in Paris, members of this committee as patient representatives included Hoffnungsbaum chairman Markus Nielbock and NBIA Disorders Association chairman Patricia Wood (USA). On site in Lausanne, under the leadership of Fatemeh Mollet, the patient organization NBIA Suisse had organized the event, which had been postponed twice due to the pandemic, in order to ensure that everything ran smoothly.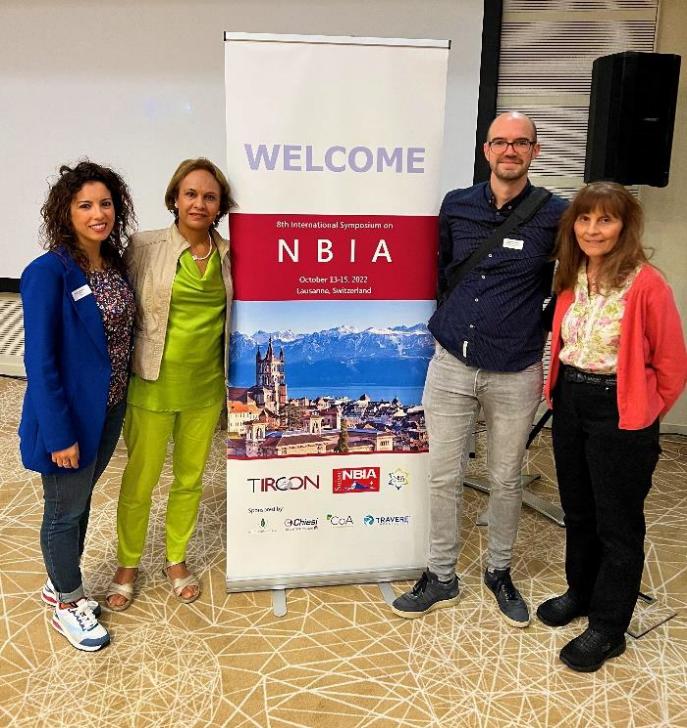 Image: NBIA Alliance representatives at the symposium
L-R: Roberta Scalise, AISNAF, Fatemeh Mollet, NBIA Suisse, Joost Schimmel, Stichting Ijzersterk, Patricia Wood, NBIA Disorders Association.

A meeting of the NBIA Alliance was also held on the sidelines of the symposium. The NBIA Alliance is a network of international NBIA patient organizations that was established as part of the EU TIRCON research project and now has 10 members. The patient advocacy groups discussed possible joint projects for the future as well as an update of the NBIA Alliance website. The NBIA Alliance also had a meeting with representatives of the U.S. pharmaceutical company CoA Therapeutics, which is currently preparing a clinical trial for PKAN. Members of four patient associations were there in person, and the rest attended both meetings via Zoom. For Hoffnungsbaum e.V. chairman Markus Nielbock participated virtually in the meetings.
In addition to the NBIA Disorders Association and the Swiss Foundation for People with Rare Diseases, the three biotech sponsors Chiesi, CoA Therapeutics and Travere Therapeutics made the organization of this symposium possible with their financial support. Hoffnungssbaum e.V. had also provided €5,000 as another sponsor. Since these funds were not used, they will be donated to the research fund of Hoffnungsbaum e.V. will benefit again.
Sources and further information:
December 2022 Newsletter of the NBIA Disorders Association (also image source), pp. 2-4:
https://www.nbiadisorders.org/news-events/nbia-newsletters/62-2022-newsletters/477-2022-december-newsletter
Fatemeh Mollet and NBIA Suisse website:
https://nbiasuisse.org/de/8th-international-symposium-on-nbia-2/