Press Release from CoA Therapeutics on Phase 1 Study for PKAN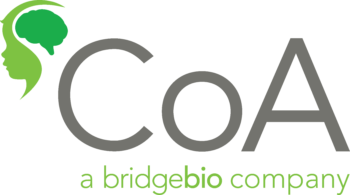 We hereby issue the following press release from CoA Therapeutics:
"CoA Therapeutics and BridgeBio Pharma present data from Phase 1 study in healthy subjects to support development of BBP-671 for PKAN and organic acidemias.

On May 26, 2022, CoA Therapeutics and parent company BridgeBio Pharma reported interim results from a Phase 1 study of BBP-671 in 77 healthy subjects. BBP-671, which has not been approved by the FDA or any other agency, is an oral small molecule therapy that activates pantothenate kinase enzymes. BBP-671 is being developed as a potential therapy for diseases associated with coenzyme A (CoA) deficiency, including pantothenate kinase-associated neurodegeneration (PKAN), propionic acid anemia and methylmalonic acid anemia.
In Phase 1 trials, researchers test a new potential therapy on healthy individuals to gather information about how a drug interacts with the human body. This early information feeds into future clinical trials. In the study, BBP-671 was generally well tolerated by the healthy volunteers. No serious side effects occurred. The most common adverse reactions associated with BBP-671 administration were headache (3 subjects), neutropenia (3 subjects), abdominal pain (1 subject), and nausea (1 subject). In individuals who experienced neutropenia, a decrease in white blood cell counts, white blood cell counts returned to normal within 3 days when BBP-671 was stopped.
BBP-671 has been detected in blood and cerebrospinal fluid, the fluid surrounding the brain, suggesting that BBP-671 can cross the blood-brain barrier and reach the brain.
In healthy individuals, CoA is formed in the body by pantothenate kinase enzymes that degrade pantothenate (vitamin B5) to produce CoA and acyl-CoAs, including acetyl-CoA. BBP-671 appears to increase acetyl-CoA levels and decrease pantothenate levels in the blood of healthy subjects administered BBP-671. These biomarker changes demonstrate for the first time in humans that BBP-671 acts as expected in the body.
Based on these data, CoA Therapeutics and parent company BridgeBio Pharma plan to proceed with the second part of the Phase 1 clinical trial in subjects with propionic acidemia and methylmalonic acidemia in the second half of 2022 and initiate a Phase 2/3 clinical trial in subjects with PKAN in 2023.
For more information about the ongoing Phase 1 clinical trial of BBP-671 (study number NCT04836494), please visit here on the ClinicalTrials.gov website. The scientific poster presented today can be found here.

About CoA Therapeutics
CoA Therapeutics was founded in 2018 with the goal of developing new therapies for difficult-to-treat and rare genetic diseases by leveraging advances in the understanding of the CoA pathway. CoA Therapeutics' approach and lead compounds are based on groundbreaking scientific developments led by Suzanne Jackowski, Charles Rock, Richard Lee and Stephen White at St. Jude Children's Research Hospital in Memphis, Tennessee. Our goal is to work with patients, patient advocates and physicians to provide patients with effective therapies for PKAN, propionic acidemia, methylmalonic acidemia and other diseases as quickly as possible. 1800 Owens Street, Suite C-1200 San Francisco, CA 94158

About BridgeBio Pharma
BridgeBio Pharma, Inc (BridgeBio) is a commercial-stage biopharmaceutical company founded to discover, develop, test and deliver breakthrough medicines to treat patients with genetic diseases and cancers. BridgeBio's pipeline ranges from early-stage research to advanced clinical trials. BridgeBio was founded in 2015 and its team of experienced drug discoverers, developers and innovators are committed to applying advances in genetic medicine to help patients as quickly as possible. For more information visit bridgebio.com. ( ... )"
Translation using Deepl.com/Translator (free version), lightly edited by AK (Hoffnungsbaum). CoA Therapeutics is responsible for the content of the press release.