Record number of participants at the 7th International Scientific NBIA Symposium
Authors of the original english articlePatricia Wood and Angelika Klucken

160 participants from 26 countries attended the 7th International Symposium on NBIA and Related Disorders, held for the first time as a virtual event. Because online access made it easier to meet in virtual space during the COVID 19 pandemic, this record number of attendees was made possible and included the world's most renowned NBIA scientists and clinicians, as well as those professionals who have only recently become involved in NBIA research and care.
The Scientific Steering Committee of the symposium was chaired by Prof. Thomas Klopstock, head of the NBIA research team at the Friedrich Baur Institute of the Neurological University Hospital Munich (LMU). The preparatory committee also included Prof. Susan Hayflick of Oregon Health & Science University in Portland, USA, Prof. Valeria Tiranti of the Neurological Institute C. Besta in Milan, Italy, and Dr. Agnès Rötig of the Institut Imagine in Paris, France. Patient representatives Fatemeh Mollet of NBIA Suisse, Angelika Klucken of Hoffnungsbaum e. V. and Patricia Wood of the NBIA Disorders Association in the USA were also committee members.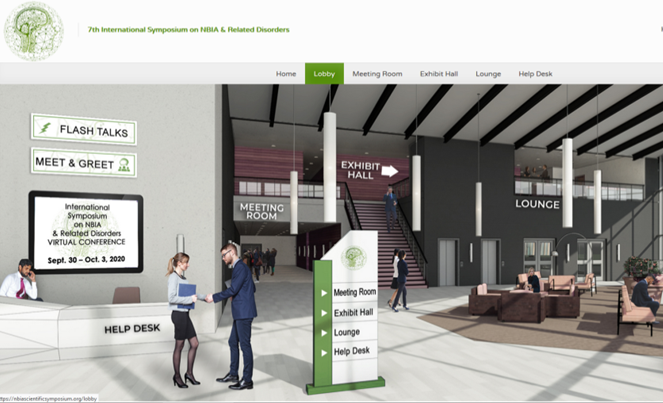 The picture shows the virtual lobby of the symposium. Participants could click on the meetings or offers they wanted to attend.
The program of the meeting, hosted by the NBIA Disorders Association in the USA, included presentations in which long-time, experienced NBIA researchers and their collaborators reported on current research findings. In addition, researchers who are new to the NBIA community but have particular expertise in cutting-edge therapies shared their knowledge and contributed to the exchange of ideas.
The meeting program each day focused on one or two of the more common NBIA disorders in particular - PKAN, CoPAN, BPAN, MPAN, PLAN, and FAHN, but discussions of individual disorders were of cross-cutting interest to all NBIA forms. Overall, five cross-disease themes emerged as focal points for discussion:
Deciphering the pathological biochemical mechanisms of diseases and thus gaining new ideas for potential new therapies.
Exploring the potential of gene, small molecule drug and cell therapies in the treatment of NBIA disorders.
Generation of suitable animal models and differentiated cell models for preclinical testing.
Conduct studies on the natural history of disease and develop appropriate subtype-specific rating scales as a prerequisite for clinical trials.
Conduct clinical trials that are upcoming or ongoing and requirements for their implementation.
All agreed that adequate funding remains a major obstacle when it comes to the various scientific approaches that still need to be explored. Regardless of the therapeutic approach chosen for treatment, the researchers shared the view that, in parallel with other research, natural history studies cannot begin soon enough to have meaningful clinical endpoints at hand to be well prepared for clinical trials, i.e., to achieve so-called trial readiness.
Patient representatives from 10 NBIA Alliance member organizations attended the conference, along with representatives from the seven organizations dedicated to a specific NBIA disease. Biotech and pharmaceutical companies were also represented.
Attendees heard 37 scientific presentations and six lightning talks, and were able to ask questions of the speakers after each presentation. In addition, each day opened with a welcome from a patient representative who acknowledged and encouraged the engagement of the NBIA scientific community from a patient perspective.
Each day ended with a lively discussion, open to all participants, on urgent needs and next steps for the NBIA disease forms covered in the presentations. Between 50 and 75 people participated in these discussion sessions. Other networking opportunities and virtual exhibit booths were also offered during the symposium.
Susan Hayflick, a medical geneticist and director of NBIA research in Portland, Oregon (USA), suggested that in addition to face-to-face symposia, researchers should meet more frequently virtually to improve scientific exchange and accelerate NBIA research. Many agreed and rated the quality of the virtual platform used at the symposium as very good.
Most of the presentations were recorded and are now available at the following link:
https://NBIAscientificsymposium.org
Summaries of the daily presentations that are understandable to laypersons are in progress and may soon be made available by the nonprofit NBIA patient organizations. In 2021, the 8th International Symposium on NBIA and Related Disorders will be held as an in-person meeting in Lausanne, Switzerland, October 14-16, 2021.
This translation was made by www.DeepL.com/Translator (free version) is supported.