PKAN family launches fundraising campaign - Newspapers report
Shortly after their 11-year-old daughter Vivienne was diagnosed with PKAN last year, the Helmold family set out and began to work for the PKAN fund at Hoffnungsbaum To raise funds for research into one of the most common forms of NBIA, because children, adolescents and mostly young adults struggling with PKAN need nothing more than effective therapies.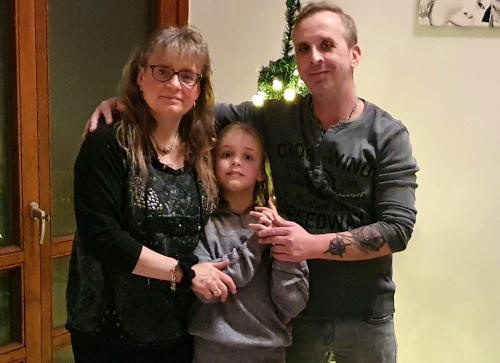 Vivienne with her parents,
Photo: Helmold family
Since then, the regional press in Lower Saxony has reported on the family several times, for example at the turn of the year the Peiner Allgemeine Zeitung in an online article.
And in March, the Braunschweiger Zeitung in the local section of Peiner about Vivienne, her family and her commitment, with the help of Hoffnungsbaum e.V. to promote research. Both items are available online.
Hoffnungsbaum would like to express our sincere thanks to the Helmold family, who have raised 3,225.61 euros for the PKAN Research Fund since December until today. We would also like to thank all other PKAN families and all donors who have supported this and other PKAN fundraising campaigns so far. Hoffnungsbaum e.V. has started to prepare a use of funds for a PKAN research project.
PKAN has been reliably diagnosable since 2001 and has been intensively researched ever since, with many advances, especially with regard to insights into the underlying pathomechanisms, but also with some setbacks and unexpected twists and turns. This is no different in research on neurodegenerative diseases than in cancer research. However, PKAN research is no longer at the beginning of the findings, but scientists are increasingly on the way to therapies that can hopefully improve, stop or even cure this disease in the near future.
If you would also like to donate to PKAN research, you are welcome to do so by noting: "PKAN" or "Vivienne" to the donation account of Hoffnungsbaum e.V..