Cycling for BPAN research - Million Dollar Bike Ride 2023
This year, the Million Dollar Bike Ride (MDBR) at the University of Pennsylvania in Philadelphia is once again raising funds for research into rare diseases. The 10th edition of the charity bike race will take place on June 10, 2023.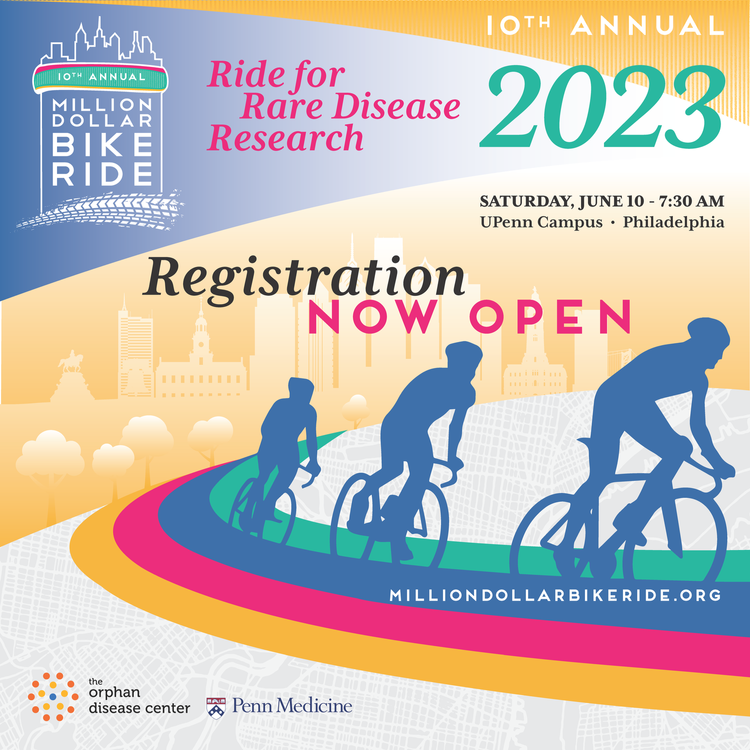 https://www.milliondollarbikeride.org/
Once again, it is possible to take part virtually. This gives us in Germany the chance to be part of it again. Be it just by collecting donations or by actually cycling along, having fun and at the same time drawing attention to NBIA and especially BPAN with photos.
This year, 39 different organizations are taking part and the NBIA variant BPAN will again be represented by our partner organization NBIA Disorders Association (NBIA DA) in the USA.
The interesting thing about the MDBR is that the donations collected are doubled by the University of Pennsylvania when they reach between US$ 20,000 and US$ 30,000. Last year, a research grant for BPAN in the amount of $69,755 was awarded to Professor Bertrand Mollereau at ENS-Lyon in France. Our goal is to exceed the US$ 20,000 mark again in 2023 together with the NBIA DA in order to initiate another new research project!
You can join in virtually as a participant and document your activities or simply donate. Officially, however, every active participant must register. However, virtual participation is free of charge. Please register here: https://www.milliondollarbikeride.org/2023-cyclist-registration
Markus Nielbock has once again created a donation page: https://charity.pledgeit.org/f/Cj497fpqdR You can use this page to donate directly to the organizers of the MDBR for BPAN research by credit card.
Impressions from last year, video: NBIA DA

However, as in previous years, you can also transfer your donations to Hoffnungsbaum . We collect these funds as "Team BPAN Germany" and then transfer them to our partners in the USA. In this way, you will receive a tax receipt for your donation. Please enter "MBDR 2023" or "Team BPAN Germany" as the intended purpose. The best way to do this is to use our online donation form: https://www.hoffnungsbaum.de/spenden/
You are all invited to become part of this team with friends, relatives, acquaintances, celebrities, athletes, colleagues, sponsors, ... and to cycle and collect donations for BPAN research. Encourage people around you to take part. Start campaigns in your area and draw attention to BPAN.
Post photos and videos on social media to raise awareness of the campaign using the hashtags: #MDBR2023 and #TeamBPANGermany or on Twitter and Instagram @MDBRide4Rare and on Facebook @milliondollarbikeride. Use our in photos and videos Team BPAN Germany Poster. You can also send us pictures for publication on this page or on our team website.
You are welcome to document your routes via the MDBR's STRAVA portal: https://www.milliondollarbikeride.org/strava
We are very confident that with your support and together with the NBIA DA we will surpass the US$ 20,000 mark and once again double the amount donated.
The contact person for "Team BPAN Germany" of MDBR 2023 is Markus Nielbock: markus.nielbock@hoffnungsbaum.de